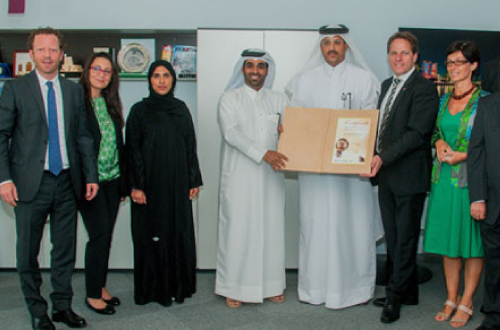 Energy Globe Award Goes to Kahramaa
Doha, June 10th, 2015 – The National Energy Globe Award Qatar 2015 goes to Kahramaa Awareness Park, an innovative project designed as a science museum for disseminating information on ways to conserve water and electricity, and serves as an original source of knowledge for young visitors. Its goal is that of educating the next generations in the understanding of environmentally conscious, sustainable living systems from the inside and the outside. A representative group from Kahramaa was honored in a festive ceremony at the Austrian Embassy – Commercial Section and Eng. Qassim Abdulla Al Mahmoud , Head of Design Engineering at Kahramaa received the winner's certificate from Austria's Commercial Counselor Gerd Bommer.
Innovations Unlimited ME submitted the project on behalf of Kahramaa – Qatar General Electricity and Water Corporation, as Innovations Unlimited ME installed three renewable energy systems at the project, which contribute to power generation and water heating for the building: A 63.3 kWp photovoltaic installation, 41 m2 of flat plate collectors for solar water heating and 3 x 10 kW wind turbines. These systems combined offset over 37 tons of CO2.
Speaking on behalf of Innovations Unlimited ME, Managing Partner Markus Jordan commended Kahramaa on their win and expressed the company's gratification for playing a role in this visionary project that stands to become one of Qatar's sustainability landmarks.
The park is built with materials that can be recycled or reused, and do not involve much energy consumption, it offers noise insulation and controls indoor pollutant sources. The Austrian Commercial Counsellor Gerd Bommer congratulates Kahramaa and Innovations Unlimited ME to the achievements of this outstanding project and is delighted to see so many efforts being undertaken in Qatar. "Best of all is that Kahramaa Awareness Park is not only about sustainability in energy production and usage, but also achieves sustainability by educating its visitors, thus making Kahramaa Awareness Park a great contribution to alternative energy awareness for generations to come in Qatar, it shapes a brighter future!" says Gerd Bommer.
With more than 170 participating countries and over 1500 project submissions annually the Energy Globe Award is today's most prestigious environmental prize worldwide. It distinguishes projects regionally, nationally and globally, which conserve resources such as energy or utilize renewable or emission-free sources.
In the upcoming weeks many more national Energy Globe winners will be honored in their countries in co-operation with Advantage Austria, Austria's official trade promotion organization. The winning projects range from high-tech to simple but effective ideas and provide answers to most of our environmental problems – be it through energy efficiency or renewable energy use or the careful use of our resources, such as water.
All national Energy Globe winners from more than 170 countries will be introduced online at www.energyglobe.info in the realm of ENERGY GLOBE's unique and global online Best Practice Week. Kick-off date is the UN World Environment Day on 5 June. Under the patronage of UNESCO and in cooperation with UNEP this unique awareness raising campaign from Energy Globe runs under the motto: We save the planet by acting, not by talking. Sustainability starts with you!
In the realm of the campaign Energy Globe Foundation GmbH also offers citizens a free online check to find out the individual energy saving potential. In addition with the online solar tool citizens have the option to find out how to generate and use solar energy – the tool delivers a country-specific result and takes into account the respective sunlight. The sum of the potential energy savings and the potential of solar power generated are documented continuously online on a global counter.
From the end of May sustainable projects can be submitted again for Energy Globe Award 2016. All details and the entry form are available for download on www.energyglobe.info.
Contact: Energy Globe Foundation, contact@energyglobe.info